Places to Visit in Fethiye and Surroundings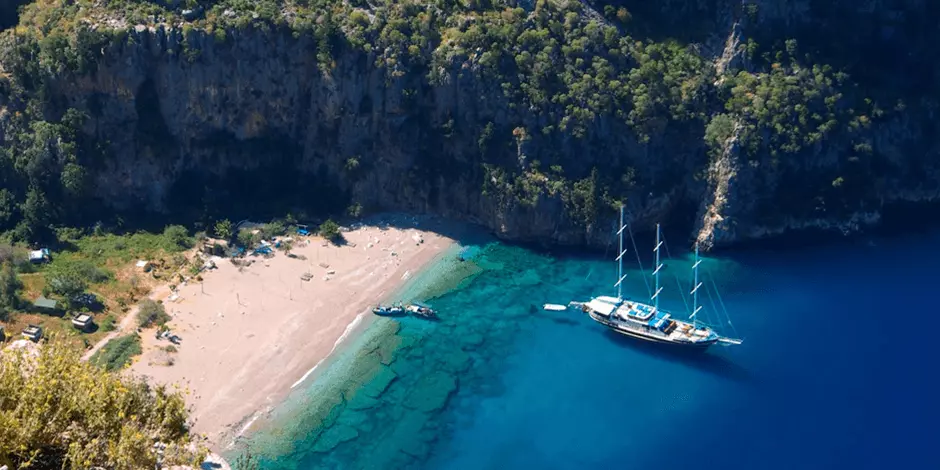 Fethiye is a beautiful coastal town situated in the southwestern province of Muğla in Turkey. It is a popular tourist destination known for its stunning natural beauty, rich history, and vibrant culture. Fethiye and its surrounding areas are home to some of the most breathtaking landscapes and attractions in the country. In this article, we will explore some of the top places to visit in Fethiye and its surroundings.


Ölüdeniz Beach is one of the most famous and beautiful beaches in Turkey, and it is situated just a few kilometers from Fethiye. The beach is known for its crystal clear waters, fine sand, and spectacular natural scenery. It is also a popular spot for paragliding and other water sports.

Butterfly Valley is a natural reserve situated on the western coast of Turkey, just south of Ölüdeniz. The valley is home to over 100 species of butterflies, and it is surrounded by stunning cliffs and waterfalls. Visitors can reach the valley by boat from Ölüdeniz or by hiking through the rugged terrain.

Kayaköy is a ghost town located just a few kilometers south of Fethiye. The town was abandoned after the Greek-Turkish War in the early 20th century, and its crumbling buildings and ruins are now a popular tourist attraction. Visitors can explore the deserted streets and buildings and learn about the town's fascinating history.

Saklikent Gorge is a natural wonder situated just outside Fethiye. The gorge is over 18 kilometers long, and it is known for its stunning scenery, crystal clear water, and adventurous activities like rafting and canyoning.

The Lycian Way is a popular hiking trail that stretches over 500 kilometers along the southwestern coast of Turkey. The trail passes through some of the most beautiful and historic areas in the region, including Fethiye, Ölüdeniz, and Saklikent Gorge. Visitors can hike the entire trail or just explore some of its most scenic sections.

Fethiye Castle is a historic fortress situated on a hill overlooking the town. The castle was built by the Knights of Rhodes in the 15th century, and it is now a popular tourist attraction. Visitors can explore the castle's towers and walls and enjoy stunning views of the town and surrounding area.

Dalyan is a picturesque town situated on the Dalyan River, just a short drive from Fethiye. The town is known for its natural beauty, historic sites, and therapeutic mud baths. Visitors can take a boat tour of the river, visit the ancient city of Kaunos, and relax in the town's famous mud baths.
In conclusion, Fethiye and its surrounding areas offer some of the most stunning natural beauty and historic attractions in Turkey. Whether you are interested in hiking, beachcombing, exploring ancient ruins, or simply relaxing in a picturesque town, Fethiye has something for everyone. So, plan your trip to Fethiye today and experience the best of Turkey's beautiful southwestern coast.